Buying or leasing a vehicle is a big commitment and at Carbone Toyota of Bennington we want to make sure our shoppers have as much information and research materials at their fingertips as possible to make an educated decision.
Since the finances are the biggest factor in taking home a vehicle, we want to make sure the new Toyota specials are front and center so you know how much you'll be paying each month. Below is a screenshot of our new specials page that shows where you can find incentives, as well as Carbone pricing.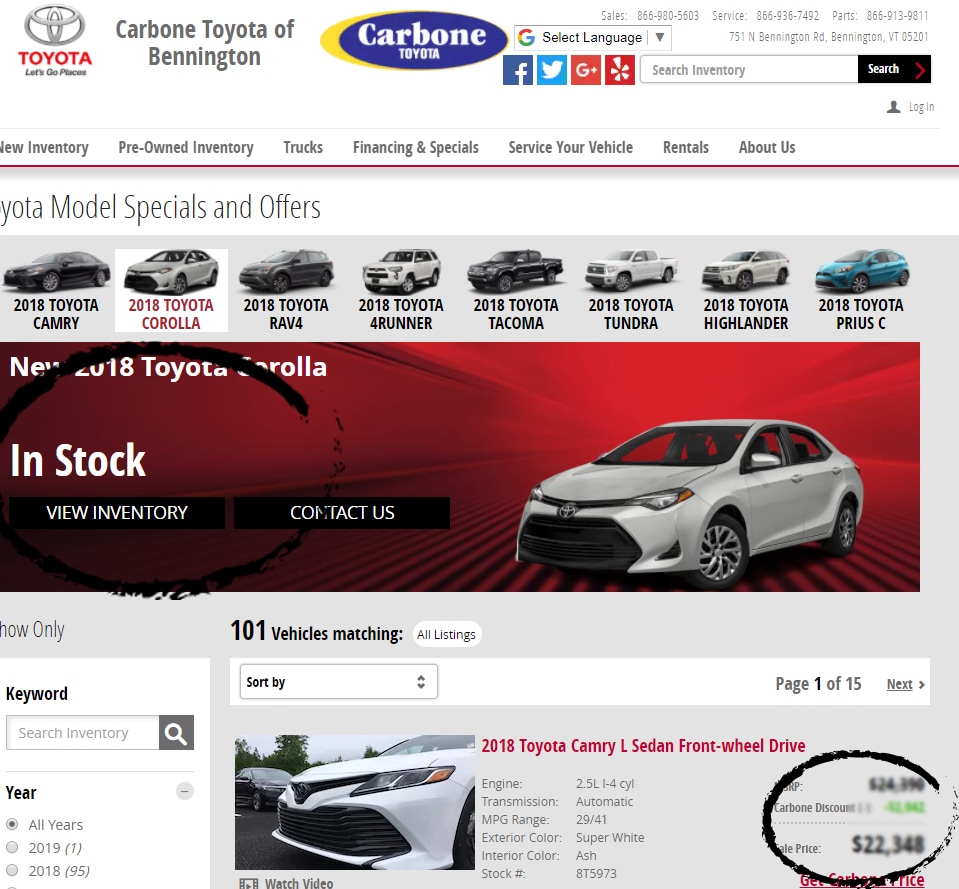 At the top of the page you'll see a lineup of our top models. When you click on the image you'll be get one of two headlines:
The circled response that tells you vehicles are in stock
A lease special with a monthly amount or an APR interest rate and term length for shoppers who want to buy
Don't worry if you don't see a specific special listed. Scroll down to the vehicle you're interested in and look at the pricing box that we have circled in our example. There you'll see the MSRP and if we've provided a Carbone discount it'll appear in green, followed by the new price. If you click on the "Get Carbone Price" a form will pop up where you can fill out your contact information, alerting a sales member that you're a serious shopper so they can reach out. You can also shop the Toyota Incentives page for a more comprehensive list of specials for the entire linkup.
For more information on our selection of new inventory vehicles, specials, or financing, stop in and see us this week! We're located in Bennington, Vermont and are excited to help you get behind the wheel of a new vehicle this summer.